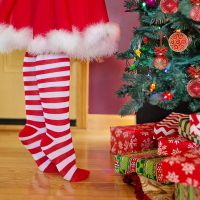 How To Get Your Family In The Festive Spirit This Christmas
If you and your children are struggling to get in the festive spirit this year, have no fear - we're here to help. Read our latest blog post to find out how.
08-12-2021
After the last 2 year we've had with COVID news and lockdowns aplenty, keeping your festive spirit up over the winter break may be a lot easier said than done this year.
But over Christmas, in particular, it's vital we all remain optimistic and cheery not only for ourselves but for the sake of our children's mental health as well.
Christmas is one of the times of the year that children love the most, after all - a chance to celebrate with friends and family, eat lots of delicious treats and, of course, receive lots of presents.
So, rather than acting like The Grinch, why not join us instead as we run through some of the best ways to utilise your children's love of Christmas and keep your festive spirit up this year?
From baking to decorations, we cover it all. So, what are we waiting for? Let's get started.
Get Creative
One of the best aspects of Christmas is watching how excited your children get in anticipation of Santa's arrival. So, why not harness that?
By coming up with a few creative activities to do together, you will not only keep them entertained throughout the festive period but you'll also help constructively utilise their love of Christmas.
If you're struggling to come up with some ideas though, don't worry -we've got you covered.
Whether you'd rather bake some festive treats, create some DIY Christmassy decorations or play some holiday-themed games, there are a number of great ways to both keep your children entertained indoors and start thinking about Christmas.
Get Decorating
While on the topic of decorations, many children love being able to transform their homes into a winter wonderland.
With a bit of tinsel draped here, there and everywhere, a wreath adorning the front door, and fairy lights running down the staircase, it's quick and easy to get your home looking the part in time for Christmas.
That's not to mention the tree as well. Whether you have a pre-existing box of baubles and decorative materials, or you go out and make some of your own, your children will love having the chance to decorate the tree and place the star on top.
Get Dressed Up
It wouldn't really be Christmas without Santa or an elf making an appearance at least once, so why not think about dressing up for the occasion?
From elves to reindeers to snowmen to the big man himself, there are a number of different ways to get organised, dress and look the part for Christmas.
Plus, you'll get endless hours of enjoyment watching your children's faces light up as you all laugh, sing and play together in your festive outfits throughout the holiday period.
If you are looking for more ways to get in the festive spirit this year, head on over to our Facebook community page. Here you will be able to engage with other children and parents about their ideas while keeping up to date with all our latest goings on here at IQ Cards.