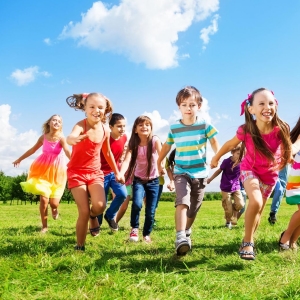 Take homework outside this summer
19th Apr 2018
As soon as the sun starts shining we start dreaming of BBQs and evenings spent outside with friends, and plotting how we can eke out every minute of sunshine before autumn rolls around. Our kids are just the same - so how can we take homework from the kitchen table to the garden path, local park or family playground?
Our summer seasons are relatively short, so it's important for children to enjoy the warm weather and light evenings while they last - however this isn't an opportunity to ditch homework as soon as spring has sprung!
It may take some getting used to, but if you think that completing homework outdoors will be good for your family, begin with reading. It may take some getting used to - there will be plenty of colourful distractions for them to be interested in, so having an engaging story should help ease them into the new routine.
Get messy
Being outdoors often gives you more freedom with paints and other messy materials - a simple hose down and the afternoon's fun has been washed away!
Get back to nature
Make sure you don't miss out on the changing seasons, and the opportunity they bring to show your children the change in plants and animals that happen throughout the year.
A change of scenery can make all the difference to your child's development - even if what they're learning is the same. Embrace the extra space that being able to make your local area your own can offer, even if our warmer months are short and sweet!
Do you embrace the change in seasons by moving homework into the great outdoors? We'd love to hear your thoughts - join our IQ Cards Facebook community and share yours.
Category: