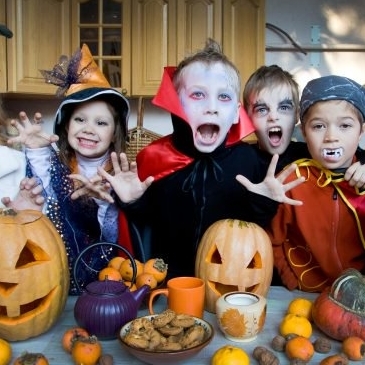 Some spooky ideas for Hallowe'en!
15th Oct 2018
It's the start of October which means the countdown begins - Hallowe'en is almost upon us. This year there'll be no last minute sewing, no dash to the supermarket for a tatty costume and no overpriced decorations - we've got spooky season covered with our guide to budget costumes, decorations that will impress without having to delve deep into your pockets and delicious snacks that don't come with a scary price tag!
The living dead
A classic that never dies - literally! If the kids have an old t-shirt and pair of shorts, pyjamas or trousers that they've almost grown out of, these are perfect for shredding and splattering with fake blood. Grab some face paint from the £1 shop and bring the undead to life.

A mummy
No, not the magical parent variety! This one is really cheap to make - pick up a packet of bandages from the supermarket or Boots, wrap them round and round, tie up the ends and voila! If you run out of bandage, pad it out with some toilet roll, and for an extra spooky effect use face paint to give them a pale face and add dark circles under their eyes and blood dripping out from in between some of the bandages.

Skeleton
Dress them up in an all-black outfit and grab a roll of silver tape. Use the tape to create bones across their outfit, from their ribcage all the way down to their boney toes. Using some face paint, white out their face, add dark circles to their eyes and hollow out their nose and cheekbones.

Spooky prints
Cookie cutters aren't just for making delicious treats to share with the family, they can also be used to make decorations. Collect some black card and white paint, dip your spooky cutters into the white paint and press them gently onto the card. Repeat a few times, cut around the shapes, string them together and hang on the wall for a spooky banner. Just make sure the cutters get a good rinse before you start baking!

Hot dog mummies
Want a meal to match your miniature mummy? We've got just the recipe, and with only two ingredients it's perfect when you're juggling a long to-do list. Using a sharp knife, cut puff pastry into thin strips and wrap around hot dogs, criss-crossing some to give them a 'wrapping' effect, and leaving a gap at the top for the 'eyes' to peek through. Bake accordingly to the packet's instructions until they're golden brown and dot with ketchup to create the eyes. It's really easy to make these vegetarian too, by using alternative to meat hot dogs.

What are your Hallowe'en plans? Join our IQ Cards Facebook community and let us know. Don't forget to give our page a Like while you're there!
Category: