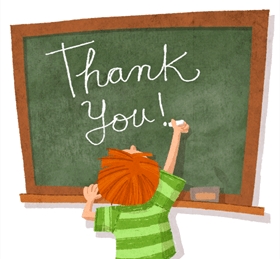 Send your teacher a personalised thank you
13th Jun 2017
The end of term is fast approaching, with just a few weeks left until the summer holidays are here and time to say goodbye to your children's class teacher.
There are few things more thoughtful than a personalised present - especially when it's one that can be cherished for years to come, like a thank you card. Our school leaving cards give children the creative freedom to make a card especially for their teacher, thanking them for a successful year and for all their hard work.
The front of the card will proudly display your children's artwork, whilst the inside can include a thank you note, birthday wishes or a good luck message - or you can leave it blank, giving you the opportunity to save the cards to share with friends and family at future celebrations.
Not only do our leaving cards make a wonderful present, they also raise extra funding at the end of the year - each pack of personalised cards raises between £1 and £3, which goes directly to the school - we don't charge any admin fees.
Take a look at our range of personalised fundraising gifts, and order a sample pack to find out more about our school fundraising gift ideas, including spring term, summer term and Christmas term.
p.s. Don't forget your teaching assistant!
Category: