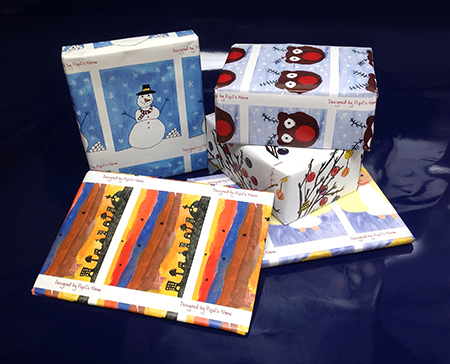 Make Christmas extra special this year with personalised gift-wrap
22nd Feb 2016
The excitement of tearing open presents is what makes Christmas extra special - but you might not want to rip this work of art up quite so quickly! Signed by your very own little artist, with the design and images chosen by them, IQ Cards' personalised fundraising gift-wrap makes Christmas even better, because every pack you buy raises money for your school.
Each pack of personalised wrapping paper contains six sheets of gift-wrap (520x360mm) and costs just £4.50. This price includes a £1 fundraising bonus that goes directly to your school, with no commission deducted.
No gift is complete without some festive wrapping paper, but as you spend your evening wrapping presents it can sometimes feel more like a chore than getting into the Christmas spirit. Brighten up your wrapping duties by bringing out the artist in your children, and let them design this year's festive finishing touches. And why not add personalised gift labels for match your wrapping paper?
Let your children become artists this Christmas with our personalised wrapping paper and gift cards. Request a sample pack today to see the quality for yourself, and to reserve your place in this year's project, visit our Confirm Participation page for details on how to get involved in 2016's project.
Category: