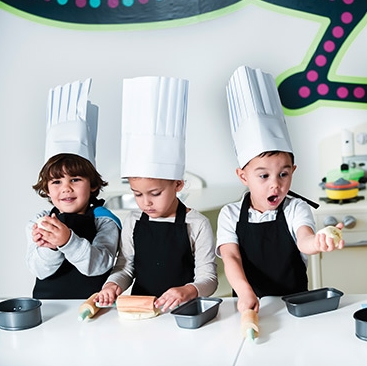 Get the kids in the kitchen
15th May 2018
Whether you're rushed off your feet or want to teach the little ones some extra kitchen skills, we've put together a few ideas for how to make meal times more fun for all the family - and recipes you'll want to eat, too!
Lasagne
You might need to help with the preparation, but when it comes to the fun bit - the assembling stage - kids will love helping to carefully arrange the pasta sheets, remembering the order of each layer and watching the cheese bubble away as it cooks. This is a great recipe to teach kids about patience and results.
Pizza night
You can't beat laying out a tray of toppings and letting the kids make up their very own pizzas! Letting them create their own gives them responsibility, and coming up with a name for their dish makes it all the more fun. The best one might even win a prize!
Stirfry
A really quick dinner with bright colours and loads of different ingredients - this one is great for getting everyone involved, from the chopping to the stirring to the plating up. You can all decide what goes in, how spicy you would like it, whether you want cashew nuts, water chestnuts, peanut sauce or soya sauce, which kind of noodles - plenty to argue over! Plus it packs in plenty of vitamins.
Simple snacks
If they need a simple snack after school or at the weekend, they can help themselves to sticks of celery and a pot of hummus - or they can create their own mini fruit salads with grapes, strawberries and blueberries!
What do you love cooking with your kids? Join our IQ Cards Facebook community and share your favourite recipes, we'd love to hear from you.
Category: