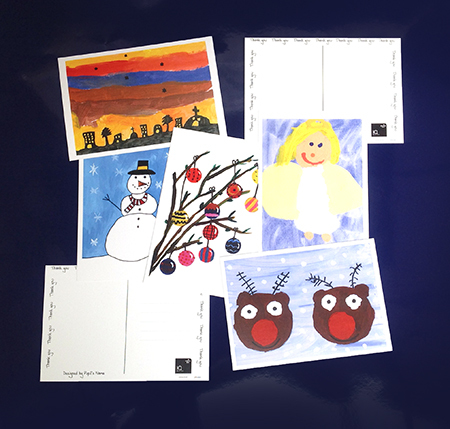 Get those fundraising hats on and be ahead of the game
25th Jan 2016
Fundraising can be an exciting but laborious task, especially when it comes to event preparation. As parents ourselves, we've been through the stress of planning, collecting, organising and counting - which is why we've come up with a simple way to raise money for our schools.
Our personalised fundraising cards give children the chance to design their very own Christmas or celebration cards, as well as gift wrap and labels - and you don't just have to wait until Christmas to get started. IQ Cards are made to order, so your pupils can choose which message goes into their card or postcard, or they can leave the message blank and write their very own greeting.
What's even better is that every pack of cards includes a fundraising fee that goes directly to the school - so you don't have to worry about collecting any money from parents and teachers. Once you've got your designs and sent them to us to print, we'll invoice you for the cost of the cards, discounting the funds raised by you, and you get to keep the rest. It's that simple. Every packet of 12 cards sold raises £1 for your school, with no additional work necessary.
To find out more about our easy fundraising projects, visit our Christmas Cards for Schools page, and to bring out the artists in your children, get in touch by visiting our Contact page, where you'll find our telephone number and email address.
Category:
January 2016
Follow us on social media to here our latest news first!