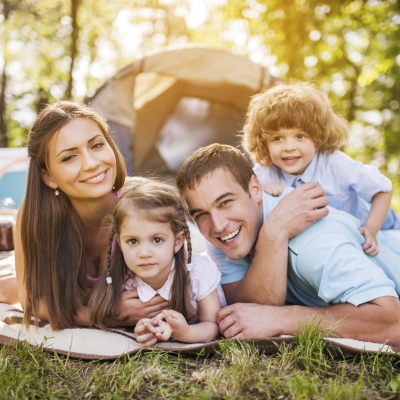 Family fun in the sun
22nd May 2018
Summer has arrived in the UK, and temperatures are really soaring! As we pile on the suntan lotion, here are a few of our favourite classic ways to enjoy the summer weather.
Sleep under the stars
Pick a warm night where everyone has a clear day the next day, pitch up a tent in the back garden and enjoy a BBQ followed by marshmallows and stories round the fire, and a night looking up at the stars. You could even look further afield and drive out to nearby forests for a wilder weekend.
Pick berries
This is a great family activity, and one that gets even better once you've returned home and can turn your treasure into a delicious dessert. It's a brilliant activity that gets everyone involved from start to finish, and is a really affordable day out. Just make sure you check with park workers though which berries are edible, and which are best left untouched.
Make your own ice-cream cones
Another foodie favourite, but when it's warm outside you can't beat a cool ice cream! You can pick up cones, sprinkles, ice cream and sauce at the supermarket, and let the kids create their own concoctions to enjoy in the sunshine. Ignore the mess…!
Lemonade stand
It might be a more American tradition, but a timeless way to fundraise with friends nonetheless; prop up a table in front of your house, mix up a few jugs of fresh lemonade and raise some money for your favourite charity.
We'd love to hear how you spend your summer holiday - join our IQ Cards Facebook community and share your favourite ideas.
Category: