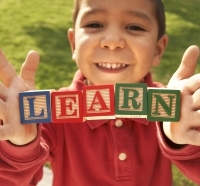 Different types of learning
20th Aug 2018
As we approach a new school year - or perhaps your little ones are beginning school for the first time - we wanted to look at the different ways that children learn, and how we can support them. It may seem advanced for young children, but as they begin their education it's important to understand that there isn't one single way of learning.
Visual
Visual children prefer to use pictures, colours and other visual tools to learn.
Physical
Physical learners practice the 'learn by doing' method, which allows children to cement their understanding of the subject.
Aural
Using song, rhythm and music helps the Aural learner better understand what they are working on.
Verbal
Reading things aloud helps the Verbal learner recall and retain information.
Logical
Always looking to understand the reasons behind what they're learning, the Logical learner will look at both the finer details and the bigger picture.
Social
Shared activities and group learning work best for the Social learner.
Solitary
Learning alone and homework are the preferred way of working for the Solitary learner.
What are your tips for supporting children in their learning? We'd love to hear them - join our IQ Cards Facebook community and let us know.
Category: