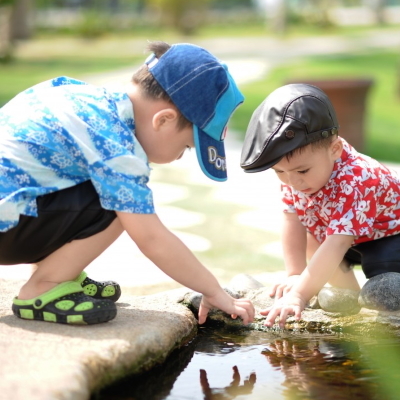 The Best Activities To Encourage Learning Outside
From bees to bingo boards, encourage your children to learn while utilising the great outdoors with our helpful hints and tips.
18-08-2020
With the sun finally deciding to come out and the British summer in full flow, now is the ideal time to utilise the outdoors to get your children's mindsets ready for learning before the start of school.
Spending so much time stuck inside during the lockdown will have likely driven your children - and you - up the wall, after all. So, why not make the most of the great outdoors now?
With the list of ideas below, you will not only be able to enjoy the lovely summer weather with your children, but you will also be able to teach them a few valuable lessons at the same time.
Create Personalised Bingo Boards
Whether it be your garden or a local park, make the most of your local green space by creating personalised bingo boards for your children which feature the plants and animals you often find there.
Once you have designed these, send your children away on a scavenger hunt to identify each animal or plant listed, with the first one to complete the entire board winning a prize of some kind.
Adding this competitive edge will not only encourage your children to be interested in local wildlife, but it'll also help them learn to stay focused and try harder to complete the task as quickly as they can.
Set Up A Bee-Friendly Conservation Area
Since bees are so critical in sustaining the planet's ecosystems, teaching your children about how important they are is vital.
Now that the sun is out, you will most likely see a lot more of the fuzzy black and yellow insects around so why not use that to your advantage?
Identify a small area of your garden and set-up a bee conservation area there, growing 'woolly' plants with nectar and pollen, creating bees' nests and limiting the amount of weeding you do there.
Doing so should, in turn, teach your children to become more mindful and appreciative of bees and other insects moving forwards.
Ask For Help With The BBQ
If you're planning on hosting a socially-distanced BBQ of some kind this summer, there are a whole host of ways to encourage learning at the same time.
Say you have six different households attending the BBQ, for example. Put your children's mental arithmetic skills to the test by asking them to help out with calculating how much food you're going to need to buy for each guest. Here's a helpful example scenario to think about:
If each guest eats two burgers at £1 each, two sausages at £1.50 each and the £2.50 cost of the tomato ketchup will be split between the seven guests attending, how much will the total individual cost work out to be?
Working out the solution should keep your children entertained while enabling you to focus on the important stuff - drinking Pimms and sizzling those burgers.
You will find other great hints and tips on how to utilise the great outdoors for learning at IQ Cards' Facebook page. Get involved today!