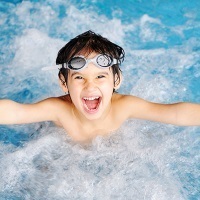 Learning to swim
Summer holidays are approaching, and if you're worried that your children's swimming skills aren't as strong as they should be - or they haven't begun swimming lessons yet - here are a few tips on building their confidence.
18-06-2019
Interact underwater
Get them used to being underwater without panicking, and actually enjoy the feeling of being able to see under the waves by waving at each other. Make sure you're all smiles so they can see how much fun you're having! Blowing bubbles in the bath at home is also a great way for kids to start getting used to water.
Learning to float
Depending on the age of the child and their skill level, you'll need to start off with arm bands, swim vests or a swim noodle. Once they've gained their confidence in the pool, you can move onto learning how to float by holding onto the side of the pool, or by holding onto your neck, and gradually raising their legs behind them until they're horizontal. This will get them used to floating in the water, and returning to a standing position.
Breathing techniques
Make sure they understand that they should exhale when they come up for air after being underwater, and then return to breathing normally rather than gasp for air as soon as they reach the surface, which can lead to a scary coughing fit.
Make an event of it
Once you've had some time together to build up their confidence, invite some friends to the swimming pool and treat your little one to a new swimming costume so they have something to look forward to. Children can often be more confident around their friends, and if they've got matching swimming goggles on it's bound to be a success!
What are your tips for helping kids relax underwater and become stronger swimmers? Join our IQ Cards Facebook community and share your tips, we'd love to hear them!