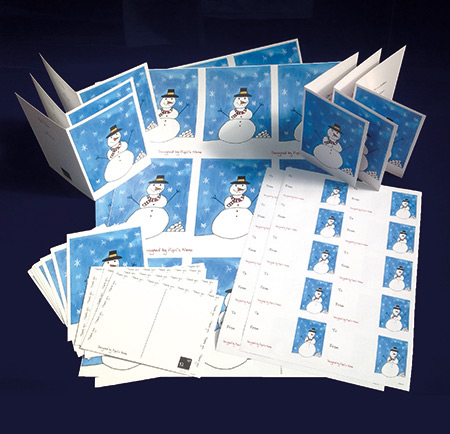 Personalised cards don't have to be pricey, thanks to our Value Pack
9th Feb 2016
If you're still feeling the pinch from last Christmas, make sure you sign up to this year's School Fundraising Value Pack for all the fun of our personalised Christmas cards and gift-wrap, at the brilliant price of just £10.
Our £10 Value Pack includes:
12 x Christmas cards & envelopes

16 x thank you postcards

6 x sheets of gift-wrap

20 x sticky gift-labels
What's even better is that 20% of the money raised goes directly to your school, with no commission deducted by us, making it easy to fundraise whilst saving money on your Christmas shopping this year.
Each item is designed by your children and can be personalised for any occasion, with a choice of messages inside your festive cards and postcards, including Merry Christmas, Eid Mubarak, Happy Hanukkah and Nadolig Llawen - or you can leave them blank and write your very own message once you've received them. They're perfect for sending to family and friends this Christmas.
To find out more about our Value Pack, visit our Christmas Fundraising Ideas for Schools page, and to get involved in this year's project, visit our Confirm Participation for 2016 page for details on how to reserve your place.
Category:
February 2016
Follow us on social media to here our latest news first!