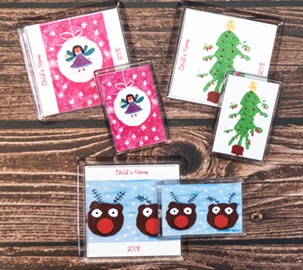 Enjoy your fundraising artwork all year round!
19th Feb 2018
Christmas should be a time for relaxation with the family, so pop the kettle on, grab the milk out of the fridge and take a seat - we're now creating personalised coasters and fridge magnets!
Our fundraising Christmas card packs have been such a success over the years that we've asked our customers what they would love to see next, and learnt that whilst Christmas cards brighten up the lounge over the festive season, they'd love to see their children's artwork all year round.
The perfect addition to our range of fundraising products, we're really excited to see what our customers will create! Based on the same principle as our Christmas cards, gift wrap and labels, these new products let children design their own personalised magnets and coasters, and raise money every time they sell a pack - all those pounds add up to supporting your child's school, and provide family and friends with a wonderful keepsake.
Find out more about our personalised coasters and magnets, including how much money each pack will raise for your school, on our Coasters and Magnets page. Don't forget to Like our IQ Cards Facebook page and share your designs with our community - we love hearing from you and your little artists!
Category: